In a few places on this site, we've refered to how we get our Huskamutes to pull us along on Mountain bikes, by tying them to the front and fitting them with a harness.   We thought we were pretty much the only people around here doing it.  but it turns out that this is actually a recognised sport, called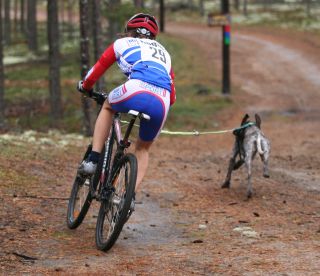 Bikejoring, on the other side of the the pond and in some parts of Eastern Europe.
So seeing as we get asked about it so much, we thought we'd add this page as the UK's first source of information on Bikejoring - the ideal sport for you and your Huskamute.
What is Bikejoring?
Bikejoring is the practice of getting your dog(s) to pull you and your mountain bike along - normally one of the sled dog breeds are used (Malamutes, Siberian Huskies, Samoyeds, any alaskan husky and, of course, Huskamutes) but potentially any large healthy dog can, and has, been used).  In a similar way it is also possible to go Skijoring with your dog (yes, you guessed it, pulling you along on skis!) and the sport of canicross (cross country running but with the aid of your dog pulling you along) which is becomming popular in the UK: http://cani-cross.co.uk/
How do I do it? 
All you need to do this (assuming you have a suitable dog or two), is a harness (see our links section for suppiers) and some strong (i.e. climbing) rope with a few clips or karabenas to connect your dogs harness to the rope (or Gangline).  You need to aim for about 2m between where the rope clips onto your harness and the front of your bike (so your dog isn't too close to your front wheel).  Tie the other end of the rope to the stem of your handlebars and then hold on tight.
For your own safety we really recommend you get good brakes and wear a helemt (knee pads and cycling gloves are also beneficial).  Don't worry if you don't have a great model or make of mountain bike.  This is probably no bad thing since it;ll get muddy and very trashed anyway! 
Then start training them to pull you along.  Obviously the sled dog will take to this like a duck
to water, but most dogs love to pull, given the chance.  This is probably the only time you'll be rewarding your dog for pulling(!) but it's well worth it.  We can easily cover 15miles cross-country, through the forest, in just 2hrs with Ash and Amber. 
For more information, why not visit the experts:
http://www.alaskan-husky-behavior.com/bikejoring.html
http://www.nwlink.com/~brucec/bkjr.htm